Welcome to Summit Roofing
Do you have a leaky roof that you need fixed right away? Or are you buying a home and need a roofing inspection to make sure everything is OK? If so, Summit Roofing is here to provide you with roofing services you can trust and rely on.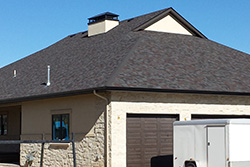 Providing Excellent Roofing Services Since 1998
Since 1998, Summit Roofing has been providing personal roofing services to clients in Casper, Wyoming and the surrounding areas. Our company is small which allows us to give a higher quality of service. We take the time to listen to the needs of our customers, and then create and execute a plan that will turn their needs into reality.
Our prices are always fair and we will work within any set budget. We offer a variety of services including roofing repairs, inspections, and replacement of gutters. We pride ourselves on going the extra mile for every customer and doing the best job we can do.
Quality Craftsmanship for All Your Roofing Needs
Owner, Lorraine Luckenbill, makes sure to hire employees who are extremely skilled and has them keep up to date with everything in the world of roofing. This ensures that we can do any job that comes our way, and the we will do it right the first time.
No matter your roofing needs, residential or commercial, our team is on hand to help you! Contact us today for a free estimate or if you have any questions. We look forward to hearing from you!